Is a digital home buying experience possible in the manufactured home industry?
Yes.
It absolutely is. There are tools available today that allow a retailer to generate a lead, show a home, help the customer coordinate the financing of a home, and close the purchase without the customer ever setting foot in the store. In fact, it's already happening now at manufactured home retailers across the country.
We know what you're thinking: "Most customers don't want to purchase something that large without coming to the sales center to see it." For now, that's true for some buyers and some markets. But having the digital option makes your sales center more appealing, and customers can CHOOSE how often they want to visit your brick and mortar store, and that makes them feel more comfortable with your business.
What about in the future? Will customers be able to purchase a home without EVER visiting a sales center to see the homes? Yes. This is the path that all industries have gone down, and ours will be no different.
20 years ago, bookstores would have never believed they'd be virtually non-existent because of online sales, Amazon proved them wrong. 10 years ago, the taxi model was the only way to pay for a ride. Uber and Lyft changed that. 7 years ago, auto dealers all said that you have to have a brick and mortar dealership to sell cars. Carvana's $13 BILLION market valuation and $4 BILLION in revenue in 2019 say otherwise.
Let's dive into this and see what the process looks like.
Have a look at the graphic below. This is a visual of what the MH Online Sales model looks like. Like any sales strategy funnel, you have lots of leads come in at the top, and sales come out the bottom.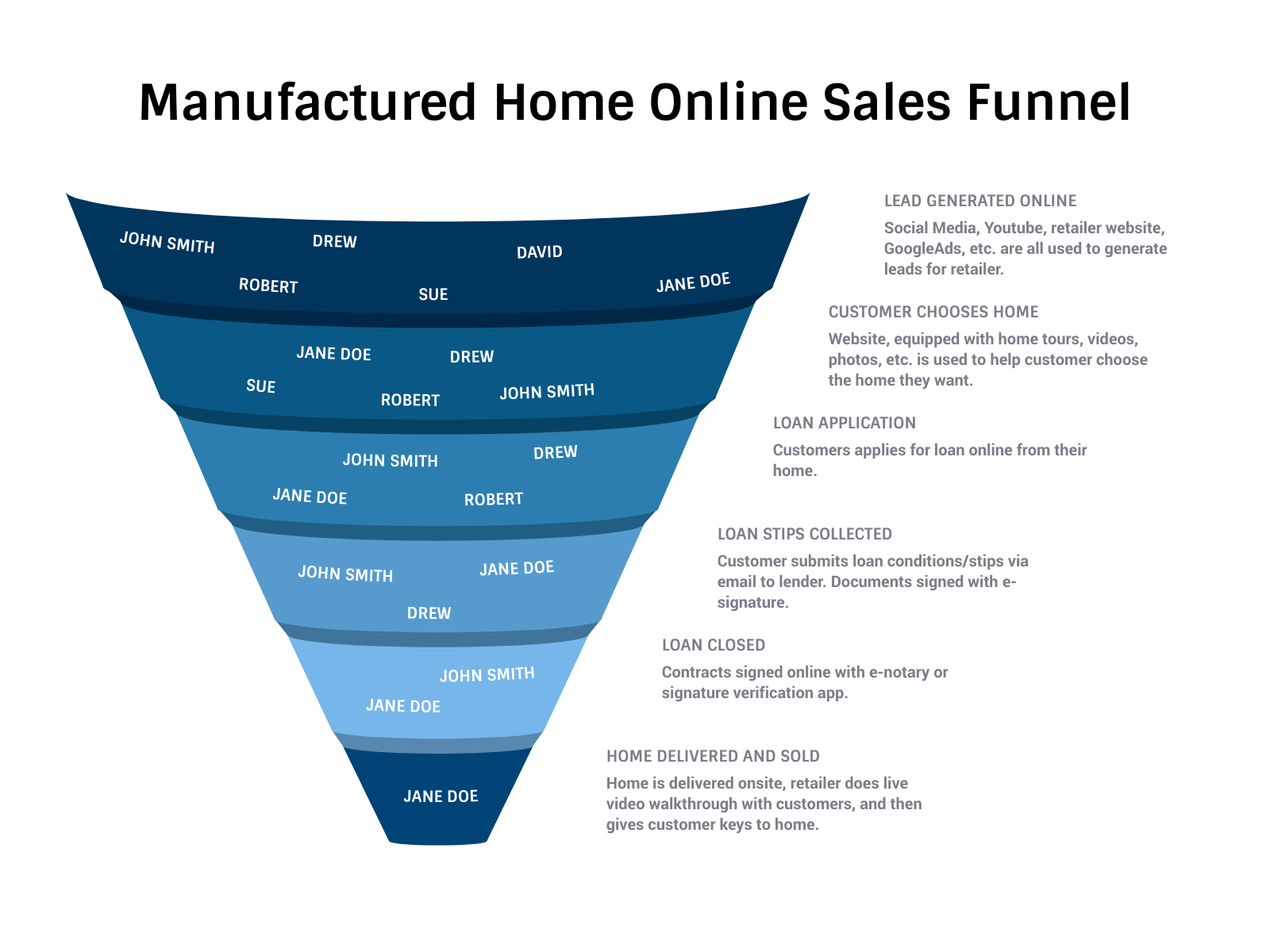 Funnel Steps
Below, we'll look at each step of the funnel, and what tools you'll need to move customers through your digital pipeline.
Lead Generation:
Here's a list of what you can use to successfully generate leads online:
1. Facebook Lead Generation Ads
2. Google/YouTube Ads that direct to a lead generation landing page
3. Website with great content that ranks well and has good calls to action
4. Google My Business for local SEO
5. Various other social media and digital channels (more on these in a future email)
Customer Finds Home:
This is where your website comes in. It needs to have photos, 3D tours, floor-plans, and any other information that the manufacturer can provide. Think of any product that you buy online – there's nothing you'll see in the store that you can't see on the website.
Click here to have a look at one of ours.
Loan Application:
This step of the funnel is all on the lenders. They need to create the digital application for customers, as it can be a complicated and expensive process. Fortunately, many lenders in our industry have already done so. Here are the names and application links for some of the larger MH lenders, in alphabetical order:
If your customers' favorite lender doesn't have an online application, we recommend that you encourage them to get one. The world is moving quickly towards a digital environment, and businesses need to adapt to stay relevant.
Loan Stips:
For the most part, lenders accept conditions in a digital format. Paystubs, W-2s, VOEs, etc. can all be submitted electronically. There are some conditions, however, that require a signature. These can be signed online with e signatures. If your lender does not accept them with e-signatures, they need to be encouraged to do so.
Loan Closed:
This is the most challenging aspect of the lending process to complete digitally. Currently, 36 states allow e-notaries to do electronic verification of signatures. (click here for a list). If you're in one of those states, you can have your documents notarized online. If you're NOT in one of those states, there are still options, but the lenders will have to get the software to allow it. This is something you will need to bring up with your lender.
Home Delivered and Sold:
The final step in the home buying process is the final walkthrough. Many customers wouldn't have an issue doing this virtually. They could use Facetime, Zoom, etc. to walk through the home with the retailer on the phone. This would especially be helpful for those home sites that are far from the sales center, and virtual walk through would save time driving to and from the home site.