Are you ready to start making social media videos to help you promote your homes, but not sure where to start? Read on for some of our tips to help mobile home dealers make great looking videos.
Video is one of the most powerful tools that social media and smart phones has given the business owner. 20 years ago, you would have spent 10s of thousands of dollars to create and distribute a video for your dealership, and now you an do it for almost nothing.
Here are some quick tips to help your next video look professional and help you sell more homes.
Use the Rule of Thirds
This is the key to a professional looking video OR photograph. It's a simple concept, and after a little bit of practice, you'll be using this technique without even thinking about.
The trick is to divide the frame (image) into 9 equal parts (see image below), and put points of interest in the image at the intersection of the lines creating the image. You see this all the time in movies and professional photographs, and it makes a better looking image.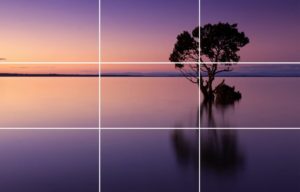 To start, try just shifting your subject (salesperson, most likely) to the right third or left third of the frame. This would work really well in a kitchen: the salesperson is in the right third, and the feature (like the island, for example) that he/she's highlighting is in the left third.
Click here for a more depth analysis of the rule of thirds.
Buy a Tripod
We all love a shaky cam movies (Blair Witch Project?), but if you're making a video for your social media account, it needs to be stable. The good news is that you don't need any fancy camera equipment to stabilize your image.
If you're filming with your phone, there are plenty of tri-pod options out there specifically designed to work with smart phones.
Click here to see some great options for tri-pods designed for your smartphone.
Keep in mind that live video is a little different, and you've got some wiggle room in terms of image stabilization and 'shaky' video when you're shooting live. Live viewers expect the video to seem a little less 'put together', so feel free to experiment with non-stabilized video when you go live.
Edit the Video
Although it may be seem intimidating, editing a video doesn't have to be difficult. You don't have to edit the next Oscar winner – you just need to take out what doesn't need to be there, and make it pretty at the beginning and at the end.
The formula is simple: start with your logo, cut to some feature of the home, and end with a call to action. We'll touch more on this in a later post, but the best way to learn is to just jump right in.
Fortunately, there are plenty of free apps out there that can help you edit your video. It you're a mac/iphone user, you can download iMovie from the app store. If you're an android user, we recommend Movie Maker Film Maker. There are plenty of other options, but these two offer great features for $0, and we can all get behind that.
Look the Part
The look will vary on your market and customer, but whoever is in the video needs to dress and look the part of a respected representative of the business. This doesn't mean you have to wear a suit and tie or a dress – it just means that you need to look how your customers would like their salesperson to dress.
1st impressions are everything, and you only get one, so make sure that it's a good looking one.
Just think professional and trustworthy, and you'll look good every time. : )
Do What You Know
Talking on camera is hard, and remembering lines is even harder. And unless you're a trained actor, reciting memorized lines will sound robotic, and impersonal.
Instead, just talk about something you understand well and know inside and out. You know the homes you're selling, so talk about them as if you're talking to a customer. Pretend that whoever holding the camera is your buyer and tell them how amazing the house is.
You do tours day after day in these homes, and there's no doubt that you're great at it.