You've heard about it, you know you should be using it, but what is it, exactly? Here's our quick guide to Facebook for the manufactured home retailer.
What
Facebook is a social platform that connects billions of users across the globe. Individuals and businesses can post text, photos, videos, and live videos to the platform, and users can interact with the posts via 'likes', 'comments', or 'shares'. You can create and sign up for events, and even post items for sale in the marketplace. Need to message people in real time? It's got that too.
Facebook was created by Mark Zuckerberg and Edward Saverin in 2004 as a social network for students at Harvard University. It wasn't until 2006 that it really took off, when it opened up to the public. It quickly overtook MySpace as the most popular social network, and it has remained at the top ever since.
Who
In short, almost everyone is on Facebook. We can guarantee that there are potential customer of yours that are on Facebook right now. More people than not are on Facebook, and the number of user is just going up.
Here are some useful Facebook statistics for manufactured home retailers: 
(All data is from Statsita)
Percentage of U.S. adults who use Facebook as of February 2019, by age group
Here it is. The number that everyone always asks about first. How many people are actually on Facebook? Well, it's a lot. A whole lot.
As you can see from the chart below, only the 65+ age group has less than 68% on Facebook, at 40%. What does this mean? It means that your potential customers are on Facebook. And it means that you need to be on Facebook to speak to them.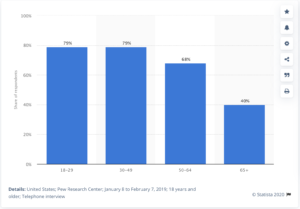 Facebook User Breakdown
This is who makes up Facebook users. Young people think that "Only old people use Facebook", while many in the Baby Boomer generation think that Facebook is just for millennials.
As you can see from the chart below, Facebook is pretty well distributed among all age groups. This chart shows how Facebook users are broken up by age group. For example, 8.2% of Facebook user are women in the 45-54 age group, and 6.4% of Facebook user are women older than 65.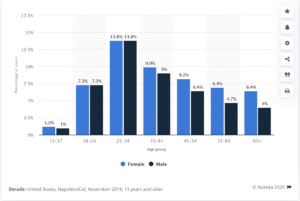 Percent on Facebook based on Education
We can hear it now…"Well…my customers aren't on social media. That's only those college grads." Nope. Education isn't keeping people off of Facebook. Over 60% of people of ALL EDUCATION levels are on Facebook.
Manufactured home retailers cannot assume that education or income level affects whether someone is on social media or not. Have a look at the chart below.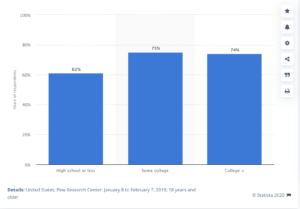 When 
You should post often. Whenever you have something interesting to say, say it. We recommend AT LEAST 2-3 times per week, maybe more.
People are on Facebook at different times, and you don't want your business to be missed because someone is asleep or busy working when you post. While there are popular times for people to be on Facebook, this can vary greatly by market and time of the year.
To start out, try posting at different times during the week, and see which times get the best engagement. There are certain times to avoid (3 am for example), but there are many other times that your potential could be checking their social pages.
Where
Are there any place in the United States that AREN'T using Facebook? No, not at all. If you're selling manufactured homes, your customers are on Facebook. 66% of people living in rural areas use Facebook. There is no other platform that reaches more rural Americans than Facebook.
Why
Why use Facebook? Because you have to. For the 35 and under crowd, a brand must be on social media for it to resonate with them. For many younger home buyers, Facebook will be the first place to look to establish whether a retailer is reputable company or not. And if they don't see it, they'll move on to the next one.
We are moving into a time period in which ALL businesses have to be online. We've come to expect it, and so has every other consumer.
And Google wants you to be on social media too. There's mountains of evidence showing that a Facebook presence helps with SEO (more on that here). Google's bots are constantly crawling the web, and that includes all social pages. And the more engagement you have on social media, the more the higher you'll rank in their index. And that means more customers.
How
Here's the hard one. How do you post on Facebook? How do you make a post perform? Or better yet, how do you make a post go viral?
It's the same way you get to Carnegie hall. You have to practice. There's no magic formula – every market, every customer, every business – they're all different. You have to keep plugging away and see what works for you.
Start by posting pics of your best selling homes, along with a brief description of the home. Point out features that your customers like. Does it have a nice kitchen? Tell people about it. Is it a great deal? Tell people that too. You've talked to manufactured home buyers for years. Now you're just talking to them on Facebook.
But here's the most important part: tell them what to do. In marketing speak, this is called a Call To Action (CTA). Every bit of marketing content you create must have a call to action. Customers need direction. Do you want them to call you? Put call us at X in the post. Do you want them to come visit during a sale? Tell them to.
Like what you read? Head over to Social Media 101 for the Mobile Home Dealer to learn more about the different social media channels.