Your website is a tool for marketing success – here's some tips to help it shine and help you sell more homes in 2022
Manufactured Home Dealer Websites – Who's looking at them?
We all know that every retail business needs a website. Think of all the retail stores with whom you do business…do any of them NOT have a website? I'm guessing they all have one, and I bet you do too. But how valuable is that website? Does it affect sales, or is it just something you need because everyone else has one?
Here's a statistic that may help you see the value of a website: According to a recent survey, 76% of consumers look at online presence before visiting a business in person. This means that for 3 out of 4 consumers, your website is the first impression they get of your business. Is your site painting an accurate picture of your business? Does it show your brands values and your superior customer experience?
As they say, you only get one chance to make a first impression, so your website needs to look great to attract those home buyers to come see you in person. Read on for a few quick tips to help your site get more customers walking through your doors.
And one more thing real quick…want to hear some good news? Google users are searching manufactured/mobile related topics more than ever in history. Check out the graph below. This is the frequency of searches for anything MH related. As we close out 2021, you can see that interest in our industry has never been higher. This is more reason to get your website working for you.

Website Purpose
With any tool, we need to first define its purpose. For most manufactured home retailers, the purpose of the website is to get the customer to either message, call, or visit the sales center in person. At this point in the evolution of the industry, it is a marketing tool, NOT a sales tool. For now, actual people are still involved with the sale of a home.
Amazon, on the other hand, uses their website as a sales tool. It's built in a way that describes the product attractively and accurately, gives a price, and shows a clear, simple path to make the purchase. A MH retailer's site needs to direct the customer to contact the sales center, NOT direct the customer to purchase the home. The sales person sells the home, and the website markets the home. This is an important distinction. When you review your own site, look at it through that sense. Do the images, home descriptions, contact forms, videos, etc. market the home, or do they try to sell the home?
Content
A website's content is all the stuff on it. Content includes photos, videos, and text. It is very important that you optimize your website's content to help you market your homes. I could write a novel about content optimization, but for brevity's sake, let's look at how you can make your images look great to your customers. Nothing describes a house better than a good photo, so let's look at a couple examples of ways to engage customers with better photos.

Take a look at the two images above. They are photos of the same home – the first is a complete, set up, customer home, and the second is a computer generated image from the manufacturer. Which image looks better to you? I'm guessing it's the first. Neither image is bad, but going from 'good to great' can really help you get more engagement and leads on your website.
Online users feel the same way. The first image gets MUCH better engagement and clicks on retailer websites. Users look at it longer, click on it more, and send in a contact form with 4-5x higher frequency than when they see the first image. It feels real to them and evokes an emotional response.

Like the exterior home photos above, interior photos need to engage website users. The two photos above are the same room in the same home. Notice how the furniture and angle of the shot make the same room feel different. The photo on the left feels comfortable, light, and inviting. The right, while certainly not a bad photo, lacks the pop and comfort of the photo on the left. And as I'm sure you've guessed, the photo on the left performs the best.
If you're struggling to get good photos of homes for your website, I recommend hiring a photographer to get some for you. It's not very expensive, and it can easily help you sell a few more homes.
Contact Forms
These forms might be one of the most important components of your website. It's how future buyers contact your business, and it's one of the best ways to gauge how well your website is working. If you get a lot of contact (lead) forms submitted, you have a lot of potential buyers to work with.
I've copied two industry forms below. At first glance, the top form may seem like the better option. It gets more info, qualifies the lead, and gives the sales person information to help the lead find their new home. Sounds great, right? In the case of manufactured home retailer leads, it's actually not great.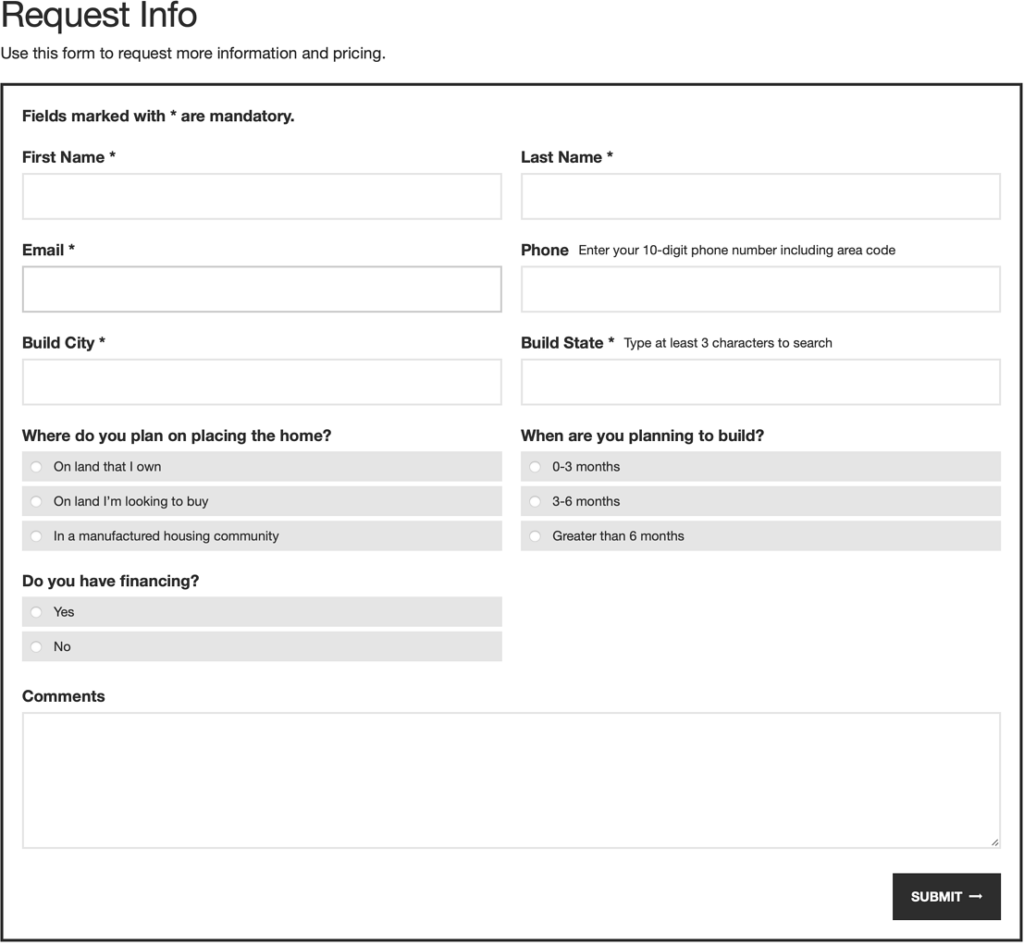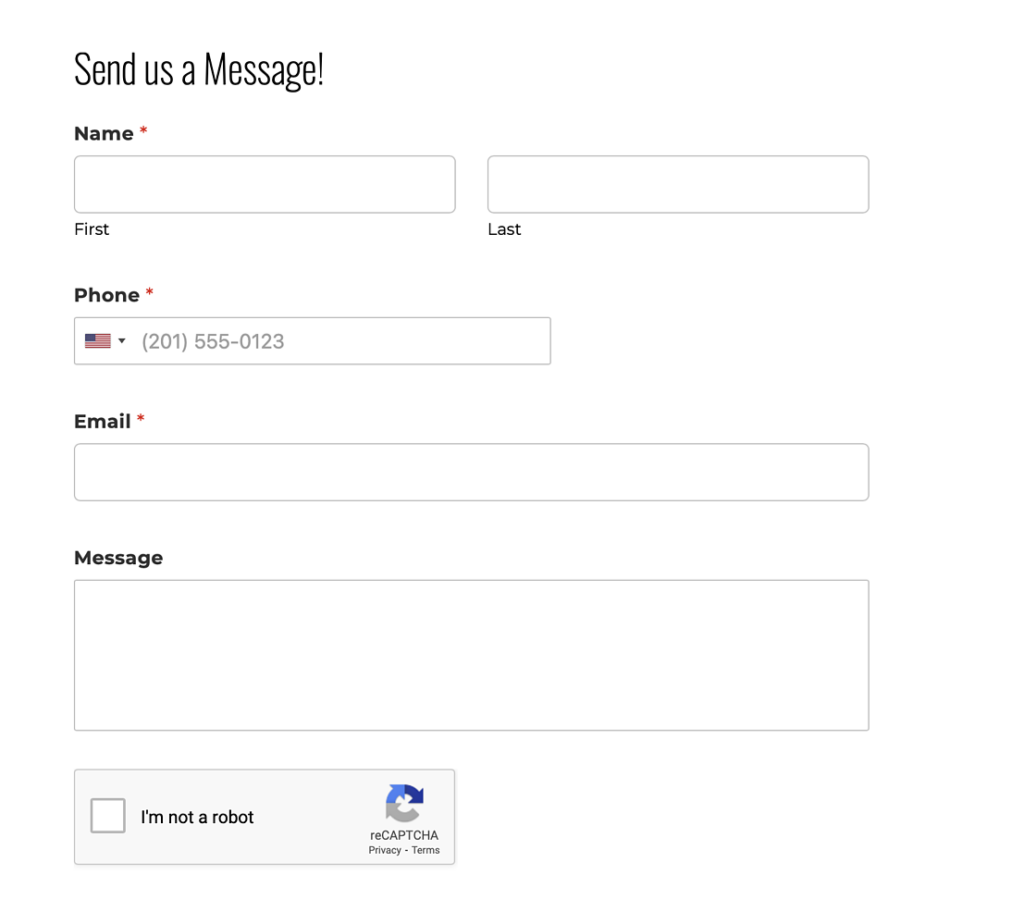 Remember what I said above about the website being a marketing tool, NOT a sales tool? This is a perfect example of that. On your website, you want the form to be as simple as possible while still being able to get contact information from the lead. The simpler a form is, the more likely a lead is to complete the form. The qualifying questions are a part of the sales process and happen AFTER the lead has submitted their info. The first form has too many opportunities for the lead to say, "I don't know what that means. I'll just fill this out later" And as we all know, later usually means never.
SEO tricks
Are you familiar with the term " SEO". If you're not, it stands for the Search Engine Optimization. In layman's terms, it's anything that's done to help search engines find your website, and rank it at the top of the search pages. For example, an Orland, FL retailer with excellent SEO would show up in the first spot when a Google user searches for "Manufactured Home Retailers in Orlando." Much SEO work is technical and is best left to web developers and marketing agencies. However, there are some things that retailers can do to improve the SEO and rise up in the search rankings.
Backlinks
Backlinks, as the name implies, are links back to your site from other sites. These links tell Google that your site's content is valuable, which is why these other sites link to it. The more traffic the sites gets, the more valuable a backlink from it are. Manufacturers, lenders, and insurance companies get a lot of traffic, so getting a link from them is especially valuable. Local directories, chambers of commerce, suppliers, and other local businesses are also good opportunities for backlinks. Reach out to companies you work with to see if you can get a link on their site.
Links on Social Posts
Make sure you're putting links on your social posts. You don't need to do it every time, but if you're looking for more traffic to your site, you need to post links on some of your posts. The simplest way is to post a link to a home listing whenever you put up a post about that home. I'll cover social media posts in a future email.
Complete Google My Business Profile
Google My Business (GMB) is the google listing for your business. Make sure that you're actively monitoring and updating it, and Google will reward you with improved SEO. Click here to read one of our posts about GMB for manufactured home retailers.
Is your website working?
Finally, after you do all the work above (and more(, you surely want to know if your website is working like it should. There's one metric that we use to judge a website efficacy more than any other, and that's the conversion rate for web lead forms. It is a measurement of the ratio of website visits to leads received. For example, if your website gets 1000 visits per month and you get 10 web leads, that would be a 1% conversion rate.
From what we've seen on our customer sites, a good conversion rate is between 2 and 3 percent. Keep in mind this is actual leads, not spam responses. You'll need to take those bots out of your calculations when you're looking at your website performance.