Want more customers to find your dealership?
Of course you do. Who doesn't, right? In the digital space, the best way to attract more customers is to rank at the top of a Google search. That's kinda like having the best spot in the main road through town. You're easy to find, and you're the first business that people see.
Fortunately for mobile home dealers, you really don't have a lot of competition. You may have 4-5 sales centers in your city, and there may be 5-10 other retailers within a 100 mile radius competing for the same customer. 15 competitors may seem like a lot, but compare that to someone searching online for the best price on a Samsung 60 inch TV. How many retailers sell TVs online? Hundreds, maybe thousands? That's stiff competition.
Local SEO
You're also fortunate because for now at least, customer have to shop for a home near where they live. They're not looking for homes in TN if they live in California. This means that your local SEO is VERY important, which is what we're going to discuss here. Specifically, we're going to look at optimizing your google my business profile to improve your local search ranking.
Take a look at the graphic below. This is an estimate from Neil Patel regarding how Google ranks different signals when it comes to their ranking. No one outside of Google knows exactly what they look at, but lots of testing can give us a good guess.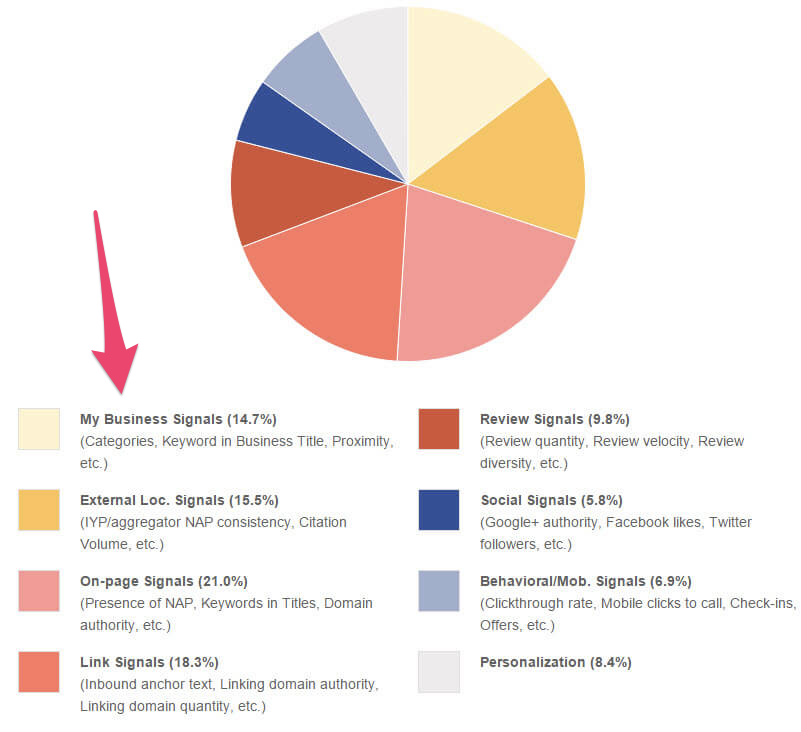 As you can see, Google My Business plays a significant role in where your mobile home dealership ranks on a google search. Here are 6 key areas you can work on to optimize your GMB listing, and help your site rank above your competitors on a local Google search.
Don't have Google My Business (GMB) listing? Click here to create one. It's very easy.
Know your keywords
To optimize your site, you have to know how your customers are finding your dealership online. What are they typing in to Google to find their new home? Is it 'mobile homes near me', 'manufactured home retailers', or 'double wides for sale'? There are tools to look this up (just Google 'Keyword Research Tool'), or you can just ask your customers how they found you.
The most common one we see is 'Mobile Home Dealership Near Me'. Coincidentally, this is also how Google and Facebook categorize sales centers in our industry – they call them 'mobile home dealers'.
Click here to see some search trends on 'manufactured home' vs. 'mobile home'.
Update all your information
This is first step, and it's the easiest. There's a lot of business information in GMB and it all needs to be complete and accurate. That means your website, hours, business description, etc. are all complete. Don't skip this part – Google looks at this information, and if it's not complete, their search algorithm will view your business in a negative light.
And when you write your business info, make sure you include those keywords in the description.
Take Photos
Google, and your customers, love photos. Photos from the interior, the exterior, and photos of your employees look great on a GMB profile. We manage several dealer's GMB accounts, and those with lots of photos will get thousands of views on those photos each month. So even if you don't realize people are looking, they are.
Click here for some instructions to help with uploading photos.
Want a pro tip? Rename your photos so that they include the keywords in the file name. Google looks at these files, and having keywords in the names will help your ranking.
Post Often
GMB posts are similar to other social media posts. You can add photos and text, and it's a great place to highlight specials or new homes. The difference is that 1) they expire after 7 days, and 2) they have a much larger impact on your Google ranking than social posts. And because these affect your SEO, you need to include keywords in your posts AND in the file names of the images you use.
Here's an example of a local business using Google My Business to post. This is an auto repair shop in Boulder, CO that works specifically on Subarus. As you can see, it includes various keywords that users might search for, a nice image, and a clear call to action at the bottom.

Here's a link with instructions to help create your first post.
Respond to reviews
This is important. You MUST respond to all your Google reviews, whether they're positive or negative. Google values businesses that interacts with customers on the Google platform, so you need to use the reviews as an opportunity to engage with customers. Google also looks at the reviews and their responses for keywords, so make sure to use keywords in your responses.
Click here, and scroll to number 4 with some help on review responses.
Monitor the account
Make sure you're checking your account regularly. The faster you respond to reviews and messages, the better. And you can also look at some basic metrics regarding photos, phone calls, site visits, etc. You need to make yourself comfortable checking your GMB account on a regular basis.